RIVERSIDE ACCOMMODATION / FISHING ON THE NORFOLK BROADS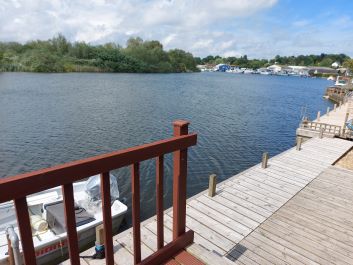 Ballysteen is a self catering, riverside holiday chalet situated in Brundall, just South East of Norwich, on the River Yare. It is in the heart of the Broads, has a station within 5 minutes walk which goes to Norwich in one direction (2 stops) and Yarmouth or Lowestoft in the other. The local pub "The Yare" is a few minutes walk away and serves food 7 days a week. The "East Hills Cafe" is also close by and serves lunches, afternoon teas (including cream teas) and evening meals. The village has 2 supermarkets as well as a choice of take-aways. It is surrounded by good walks and cycle routes. Good bream, perch, pike and roach have been taken from the deck. Boats may be hired or there are regular cruises from nearby boatyards.
Ballysteen sleeps 4 guests in 2 bedrooms each containing a double bed. It is a fully equipped home including free Wi-Fi, Freeview TV, Freesat TV, DVD, radio / cassette / CD player, washing machine, dishwasher, fridge, microwave, hairdryer and sufficient glasses, cups, plates and cutlery for your needs. The river side has an upper and lower deck complete with outside tables, chairs and sun loungers for your use. All bedroom linen is provided plus a choice of Summer or Winter duvets, but you will need to bring your own towels. The bathroom has both bath and shower. There is parking for one large vehicle. For those who plan to fish rod pods are provided (fishing license needed, close season 15 March - 15 June).
I am sorry, but no pets are allowed: this is both for the benefit of later guests and to protect furniture and fittings as even the best behaved pets have "accidents". Children are welcome but the river presents an obvious danger and guests need to consider how they can ensure their children's safety. No smoking is permitted inside the chalet but guests may do so outside.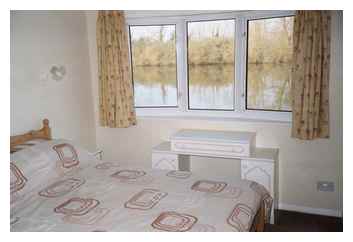 Please note that weekly rates include Wi-Fi and electricity; there are no meters to worry about. For prices and availability, see below.To make a booking please telephone Mike on 07798 841126 or e-mail mike@ballysteen.co.uk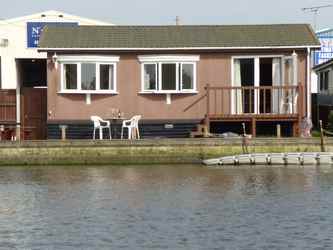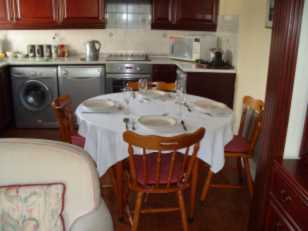 Guests Comments :
Had a lovely 2nd visit to Ballysteen. Lovely weather, nice days out and good fishing. Caught plenty of bream up to 6lb and 2 pike, biggest weighing 9lb 3oz. Many thanks, N & A 30/6/18

Had a very nice week, Good weather in the main, plenty of fish, lovely accommodation so all the pleasure of holiday making. D & E 8/9/18

Comfortable lodge, well equipped and wonderful location. Caught hundreds of fish, roach to 1.5lb, bream to 5lb and pike to 10lb all on a pole. Saw 14 species of birds including the kingfisher. A really lovely week. L & P 15/9/18

Lovely location, very comfortable, loved watching the boats. N did some fishing but it's not all about the fish – days out in Norwich and Gt Yarmouth via rail with the station near the pub. Needed the seclusion this place offers, peace and quiet.Weather warm and balmy, excellent. Very pleasant holiday, will return anon! M & N 22/9/18

Had a lovely stay here, lovely and peaceful. Loved watching the boats go by. Very comfortable, just what my husband and myself needed. Just like home from home! We will definitely be returning. C & M 6/10/18

Thanks, Mike, had a lovely time. Weather very good. Fishing slowing down although loads of perch and a few roach plus a lot of pike activity. A few bream and ruffe. Had my paddle board with me so a few trips on that. AT 20/10/18

Hi Mike, another great week at Ballysteen. Weather very good for the time of year. Had a few days fishing, plenty of small stuff. A great break. Hope to return next year. Thanks, S & C 27/10/18
Bookings: All weeks start and finish on Saturdays. Arrival is on or after 3pm and departure on or before 10am. A deposit of £100 per week is payable to secure a booking and the balance must be paid 6 weeks prior to arrival date. If the booking is cancelled prior to 6 weeks the deposit will be forfeit. If cancelled within 6 weeks of the arrival date, the total payment is forfeit. As a matter of goodwill, a refund less the deposit will be made if another guest takes up the booking. Guests may consider taking out holiday insurance if this is a concern.
BALLYSTEEN RENTAL 2019 (as at 19 May 2019)
3 November 2018 until 18 May 2019

Ballysteen is unavailable due to building work on neighbouring site.

2019

May

4

11 (445)

Not Available

11

18 (420)

Not Available

18

25 (445)

Booked

25

1 June (485)

Booked

June

1

8

530

8

15

535

15

22 (620)

Booked

22

29 (695)

Booked

July

29 June

6 (720)

Booked

6

13 (730)

Booked

13

20 (740)

Booked

20

27 (740)

Booked

27

3 August (740)

Booked

August

3

10 (740)

Booked

10

17 (740)

Booked

17

24 (740)

Booked

24

31 (740)

Booked

September

31 August

7 (695)

Booked

7

14 (650)

Booked

14

21 (610)

Booked

21

28 (585)

Booked

October

28 September

5

560

5

12

530

12

19

525

19

26

500

26

2 November

Booked

November

2

9

420

9

16 (380)

Booked

16

23

360

23

30

360

December

30 November

7

340

7

14

340

14

21

340

21

28 (400)

Booked

28

4 January 2020

400

2020

4 January – 29 February 2020

All weeks between these dates are £340

Sat to Tues or Tues to Sat are 70% of weekly rates during November - April